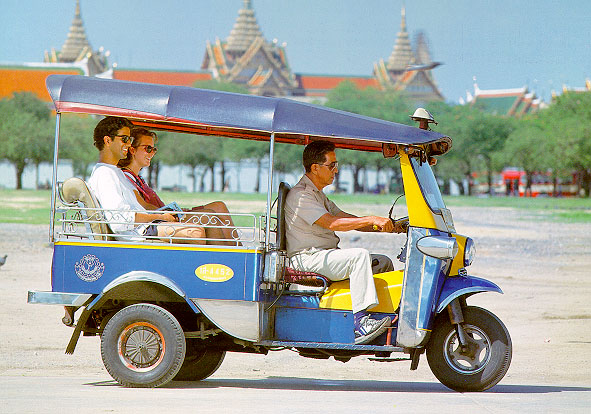 Though not directly served by any BTS station, getting to Platinum Fashion Mall, Bangkok is rather easy. There are various options of getting to Platinum Mall. 
If you want to avoid the infamous heavy traffic of Bangkok, the best option is to get there by BTS and walk a short distance.
Airport Rail Link From Suvarnabhumi Airport
The fastest and cheapest way to get into Pratunam area where Platinum Mall is located (or hotels surrounding it) is to take the Airport Rail Link. The whole journey takes about 30 mins from Suvarnabhumi Airport to Phaya Thai (last station) interchange station where you will change over to the BTS. Each single way ticket cost 40 baht (less than USD 2) per adult.
From Phaya Thai BTS, you will then continue your journey to Chit Lom BTS station to get to Platinum Mall. From Phaya Thai BTS, a single trip ticket will cost 20 baht (less than USD 1).
The entire journey from Suvarnabhumi Airport Station to Chidlom BTS station will be about 40 mins (excluding waiting time).
Getting to Platinum Mall From Chit Lom BTS
Estimated Walking Time: 15 mins
The most common route travelers take to Platinum Fashion Mall by BTS is to stop over at Chit Lom BTS and walk a short distance of about 15 mins. Though it may seems quite a distance from the map, the route is actually bearable.
From Chit Lom BTS to Central World, the route is sheltered and you wont have to worry of getting burned from the scorching sun or getting wet during the rainy season. No traffic to look out for either as you will be walking on the elevated walkway the moment you step out of the BTS station towards Central World. Follow the signs along the walkway and you will get to Central World Plaza.
You will be walking past Central World Plaza (one of must go to Shopping Mall in Bangkok) before reaching Platinum Mall.
Taxi From Airport (Suvarnabhumi / Dong Mueang Airport)
Alternatively, you may also hail a cab upon your arrival at the airport. Most drivers are conversant with little English and most would know the location of Platinum Mall. If you intend to get to hotel near Platinum Mall from the Airport, take a cab since you will most probably be lugging your luggages. It will take about 30 – 45 mins from Dong Mueang Airport or Survanarbhumi Airport respectively. The metered fare will be about 350 – 400 baht (about USD 12 including tollway charges and the 50 baht surcharge).
However, if you are lugging big luggages and have 4 or more passengers, it would be best for you to take a bigger taxi so that you will all fit into 1 vehicle (saloon cabs all have a CNG tank in the trunk and might not be able to fit 2 big luggages). The fare for the bigger taxi is fixed (unmetered) at 700 baht (including all toll charges).
Inform the taxi coordinator (situated at the start of the taxi queue) about your hotel or "Platinum Mall" and he / she will have it written down on a note and have it conveyed to the driver.
The coordinator will also provide you with a copy which details the taxi registration number and the time of boarding. In the unfortunate event that you are dissatisfied with the driver's service, information is also provided on the reverse side of the sheet to inform you on how to lodge a complaint on the driver. Note that this copy is yours to keep and there might be some unscrupulous drivers who would demand to keep it. If asked, your alarm should sound off as the driver would most likely be thinking of means to get more fare from you. Insist of keeping the sheet and it would come in handy should you wish to lodge a complaint against the driver at later stage.
Tip: If you are travelling in a big group. Go ahead and take the big Taxi, as it's definitely cheaper than splitting the group into 2 taxis. Negotiate for a return trip to the airport (for your departure) with the driver and usually they will offer it at a cheaper rate. Fare of 600 baht is considered reasonable for a big taxi.