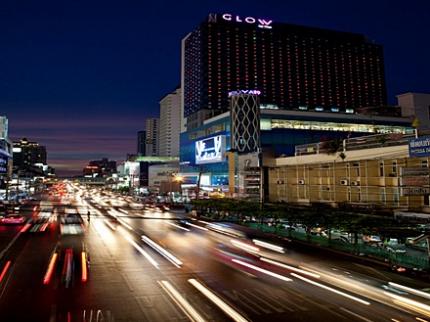 Glow Pratunam Hotel Bangkok
Glow Pratunam Hotel is located right opposite Grand Diamond Suites Hotel, and is within a short 5 mins walking distance to the Platinum Fashion Mall. It's one of the newest hotels which started its operations in late 2012 and is appealing to visitors who want to stay within Pratunam area due to its convenience and proximity to the wholesale fashion markets. Relatively smaller as compared to its surrounding hotels, Glow Pratunam Hotel is actually packed with full hotel facilities. With 169 rooms, the hotel comes with a fully equipped fitness gym, restaurants, outdoor swimming pool and best of all, it sits on top a shopping mall – Shibuya, with outlets which mostly sells wholesale fashion apparels and accessories. When you're tired from the walking you can also head to the food court located on the top level of Shibuya or head to have a cup of coffee at Starbucks or grab a quick bite at McDonalds, bloth located on the ground floor.
Glow Pratunam Hotel Bangkok – Location
Glow Pratunam Hotel Bangkok – Photos
Glow Pratunam Hotel Bangkok – Daily Rates
Following table shows a comparison of the daily rates for the most basic room in Glow Pratunam Hotel, charged by respective online booking sites. Test reservation was made for stay in next 2 months.
Agoda.com
Expedia.com
Hotels.com
Booking.com
Deluxe Room Only
USD 80.25
/ Night
USD 81.85
/ Night
USD 81.85
/ Night
USD 110.77
/ Night
Cheapest
 
Latest Promotions Available